A total of 2,070 participants completed the questionnaires, with 1,961 young adults (50 or younger) and 106 mature adults (over 50) included in the analysis. The return rates for online and paper surveys were 24% (1,980 of 8,252) and 41% (77 of 187), respectively. The mean age was 23.3 ± 4.1 and 66.7 ± 9.7, respectively, and 71.4% (young adults, not = 1385) against 58.1% (mature adults, not = 61) were female. Body mass index was significantly higher in the older group (25.7 [23.4–28.3] against 21.6 [20.1, 23.4] kg/m2) (Table 1). None of the participants were below the legal drinking age. Results stratified by gender or BMI groups are shown in Supplementary Tables S1 and S2.
The proportion of participants in the two age groups reporting consuming more, less or the same amount of alcohol since the lockdown was implemented was significantly different (p not = 854) of young adults reported not having changed their drinking behavior, compared to 76% (not = 80) mature adults. The proportion of participants reporting drinking less was higher among young adults (42%, not = 817) compared to mature adults (7%, not = 7), while only 14% (young adults, not = 275) and 17% (mature adults, not = 18) consume more alcohol.
Before confinement, most participants reported consuming up to 2 glasses/week (Fig. 3). In general, only a small fraction of participants drank 2-5 drinks or more than 5 drinks/week, with similar rates in both age groups. However, during lockdown, most young adults drank 0 drinks/week and the number of people in all other categories decreased. In contrast to this, only slight changes were seen in mature adults, with a trend toward more participants in the 2-5 drinks/week and over 5 drinks/week groups.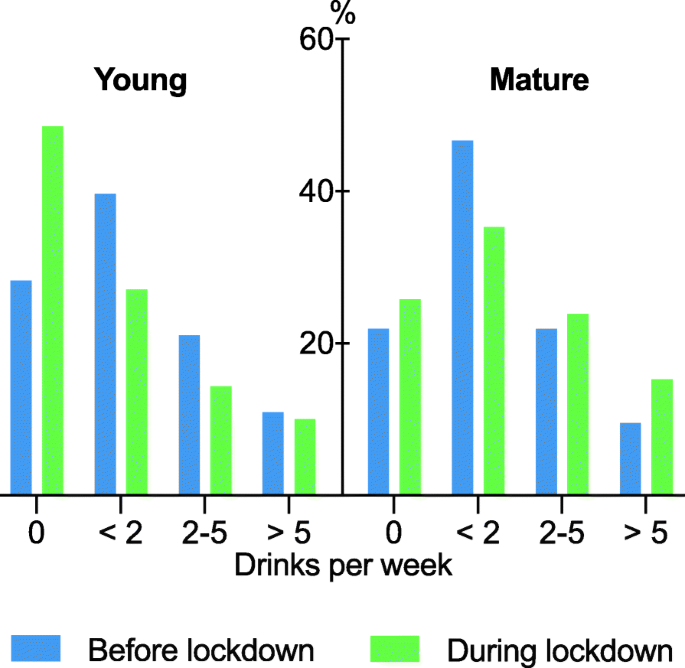 More than half of participants with more frequent consumption of alcoholic beverages (more than 2 drinks/week) in the young adult group reduced their alcohol consumption (55%, not = 341) (Supplementary Table S3). Among frequent drinkers in the middle-aged group (not = 33), only 1 participant (3%) had reduced alcohol consumption (Supplementary Table S4). Due to the limited group size, more detailed analyzes assessing associated factors were not possible.
Univariate analyzes indicated BMI groups (BMI 2 or BMI > 25 kg/m2), age, abstinence (i.e. 0 drinks/week) and frequent drinking (more than 2 drinks/week) were indicators of more or less heavy drinking during confinement. However, in multivariate logistic regression models for drinking more or less during lockdown respectively, after adjusting for interactions, abstinence before lockdown (0 drinks/week) was the only protective factor against alcohol consumption (odds ratio, OR 0.24, 95% confidence interval, CI [0.16–0.35]table 2) and young age was the only factor associated with lower consumption (OR 9.91, 95% CI [4.92–23.8], Table 3). Female gender was found to protect against being a heavy drinker (>5 drinks/week) during lockdown (OR 0.43, 95% CI [0.32–0.57], Table 4). Education levels and BMI were not used as proxies in the multivariate regression models assessed.
Additionally, an ordinal logistic regression model was run to find factors associated with a decrease to a lower semi-quantitative category for number of drinks per week. Three factors could be identified for this: young age vs mature age (odds ratio, OR, 0.42 [95% confidence interval, CI, 0.24–0.74], p = 0.003), gender female vs male (OR, 0.69 [95% CI, 0.57–0.83], p 2 vs BMI ≥ 20 and ≤ 25 kg/m2 (OR 0.72 [95% CI 0.58–0.89], p = 0.002) were found to be associated with a decrease to a lower category for number of drinks per week. A BMI > 25 kg/m2 or high level of education had no statistically significant effect (Supplementary Table S5).