Jones and Flynn twice complete Cherry Fest | Sports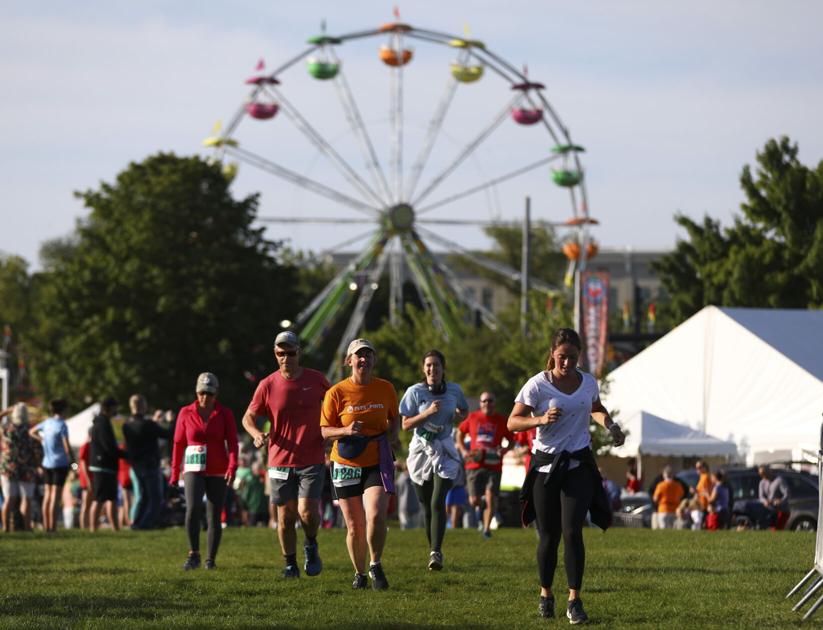 TRAVERSE CITY – Julia Flynn and Hunter Jones won again.
This phrase is no longer a surprise to those who follow cross country and track and field in high school. Now the National Cherry Festival is getting a full dose of the region's talented pair of runners.
Flynn won the women's half marathon at Saturday's Festival of Races – by six and a half minutes over Detroit's Ariana Hendrix-Roach, finishing the 13.1 mile course in 1: 18.57.04. Jones won the 15-kilometer race, with a 30-second victory over Micah Meindertsma in 48: 59.92.
"I didn't intend to take this as a super serious race," said Flynn, who just finished his junior year at Traverse City Central. "I'm only doing my long run, but I think I got carried away because all the other runners are running there and it's hard not to give your best when you know it's possible."
Flynn and Jones both won the elite Cherry Mile High School races on Thursday. Jones was named the Record-Eagle male athlete of the year in track and field on Saturday. Flynn was named the Record-Eagle Female Athlete of the Year in Track and Field.
"It was just a fun race for me," said Flynn. "I just like going out and doing some fun races and working on tempo and rhythm. That kind of fill that gap, but more short track racing. I love to run and I'm really excited for cross country so it was just a special little race for me. It was fun."
Jones, who is entering his junior year at Benzie Central, said the Festival of Races gave him a new distance to try.
"I was aiming for the 15K," Jones said. "I've never raced before so I wanted to go and see what I could get out of it. I would have liked to fight fatigue a bit more, but overall it's pretty good.
McKinley Hill also added another challenge he's not used to in cross country and distance track events.
"It was really good," he said. "This hill, I slowed down a lot, but in the back, I just focused on maintaining my stride."
Jones said he cycled the course a few days ago to get a good lay of the land, which featured a different finish line than usual. The races ended in the open space this year instead of the typical 100 block of West Front Street.
Around 2,150 runners took part in Saturday's event, up from around 3,000 in 2019.
HALF MARATHON
Danny Kilrea, who will be senior next season at Notre Dame, won the men's half marathon in 1: 07: 25.85.
While being in internship.
The Fighting Irish runner did an investment banking internship that went virtual due to the coronavirus pandemic, so he decided to spend the summer at his family's cottage in Glen Arbor.
"My internship became virtual, so it was a great time to enjoy being here," said Kilrea. "I was supposed to be in New York, so it's a pleasure for me.
"I work from home and have to be indoors a lot, but whenever I get the chance I paddleboard, take a ride, or hike. I'd rather do that here than in New York.
He was alone two miles away and ended up winning over a minute over Grayden Law of Fort Wayne.
Kyle Kiel of Kewadin was fourth, Craig Manning of Traverse City was sixth and Brendan Delaney of Gaylord was eighth.
On the women's side, three other Traverse City riders joined Flynn in the top 10 – Aimee Marsh (third), Lindsey Kristin (fourth) and Jill Burden (10th).
15K
Kylen Cieslak returned to his winning ways, winning the 15K for the first time since 2010.
The 33-year-old from Chicago also took third place in the 2008 15K.
Cieslak owns a cabin on Lake Higgins and after a week's vacation there for July 4th, she decided to participate in the race.
"I did this in the past when I was in college," Cieslak said. "It's been a while since I've done it and this is really my first run since the California International Marathon in 2019, just because of the pandemic. So it was nice to go there, to run fast again on a course that I know well.
"Nike runs races in Chicago, and since I'm running for their team I'm probably going to get into some of them. It's just really random races, ranging from running to a parking lot to a 5K on city streets, so really cool to run.
Mylie Kelly of Benzie Central was second in 1: 00: 19.12, less than a minute behind Cieslak.
Annie Somerville of Traverse City was fifth and Carrie Merrithew seventh, with Merrithew also winning the women's masters title.
Thomas Vanslembrouck of Petoskey was 10th in 53: 13.83.
10K
Brooke Tullis brought a group of about 40 people from Toledo, Ohio, to Traverse City for a cross country team camp.
The second-year coach and former University of Toledo runner has maintained a team tradition that has skipped a year. Only she added a 10 kilometer title to the case, winning in 39: 51.67, nearly 16 seconds ahead of runner-up Jacinda Cole of Holland.
"We couldn't come last year because of COVID and last year was my first year as a coach," said Tullis, who leads the Northview program. "So this is my first year here. It really is a cool experience. The weather is nice, here.
Five regional runners landed in the top 10, led by Traverse City's Ava King in fifth, Lake Ann's Makenna Scott sixth and TC participants Jamie Chapman, Elliott Smith and Libby Gorman seventh, eighth and 10th respectively.
"I didn't expect to win this," Tullis said. "I haven't done so much competitive racing this year with COVID and all so it was a good race for me. It was fun, I got pretty competitive during that.
Philip Spitzer, a 29-year-old Calvin College graduate and assistant cross-country coach at Wartburg College, completed his own triple crown by adding a 10k championship to his previous Festival of Races. He won 5K two years ago and 15K three summers ago.
"I went through the entries yesterday, I had kind of a mini panic attack when I saw Hope's Nicholas Hoffman and Calvin's Brandan (Knepper) because they're both faster than me "said Spitzer. "Hoffman, he's got speed and then he's a miler. So like I don't know how I'm going to win this, because if I tried to run away Brandan is going to go on and beat me because he's faster, but if I slow down then Nicholas is going to kick me of foot down. … I really had to work the hills to get as much distance as possible.
Hoffman was second and Knepper third. Kyle Siemer of Traverse City took eighth place.
Spitzer said he must aim for the Fourth Jewel in the Crown next year.
"If I'm healthy it's next half-time," said Spitzer. "It's going to be difficult because I've only run this far once before. I'm looking forward to it. So I took care of the short distances so now I have a whole year to train for that. It's going to be a challenge. I can not wait to see him.
5K
Eric Hoffman, who just completed his freshman year at Indiana University-Purdue University Indianapolis, won the 5K crown.
His girlfriend, Aubrie Deal, dated Traverse City West until eighth grade before moving to Noblesville, Indiana, where they both currently live. She attends Southern Indiana University and was 13th in her age group in 5K.
"I had to get permission from my coach to do it," Hoffman said. "We were supposed to practice yesterday, but I did it instead because it felt more fun."
Hoffman won his first race at the Cherry Festival, although he came to Traverse City most summers when he played lacrosse in the Cherry Bomb tournament.
"I wasn't like that," Hoffman said. "I just liked a good, easy two-mile warm-up and (Ryan Hofsess) pushed the pace really well. I just went out and I'm like oh hang on, see I feel and so this is really my first major workout of the year, because it's only my fifth week back. I'm doing a lot of kilometers right now, I'm doing like 95 this week, so it's a good little rust remover in between.
Traverse City's Drew Seabase took second, less than 14 seconds behind Hoffman. Hofsess placed third. Traverse City riders Luke Venhuizen, Isaac Stone and Cam Owens placed fifth, eighth and ninth respectively.
Sadie Heeringa immediately told a lot of friends about her victory.
Fourteen runners from Calvin University competed on Saturday. Heeringa won in 17: 08.44. The Knights still had a dozen male runners in the 10K and 15K races
"It's the most we've ever had here from our team," said Heeringa. "It's really great after COVID and last year when everything was closed for us."
Jami Hollandsworth of Williamsburg was fourth, with Alexis Ball and Julie Comfort of Traverse City fifth and 10th respectively.
"The course is probably short, because it was a PR and I don't think I kept a PR pace," Heeringa said. "I didn't know where (the finish) was and where to start because I couldn't see the finish and had never run the 5km course before."