Glacier's famous webcam bear: Cute … or killer? | Local News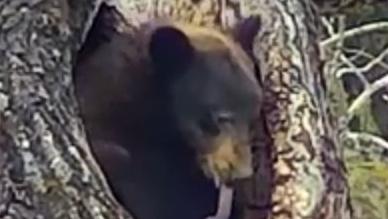 ROB CHANEY

KALISPELL – America's favorite tree bear may have been a llamas killer.
The black bear that drew 750,000 Facebook followers when Glacier National Park staff put their tree den on a webcam this spring is a suspect in a cattle kill shortly after the webcam. Although the evidence is inconclusive, the bear had a motive and an opportunity.
"It's circumstantial," glacier wildlife biologist John Waller said at a regional grizzly bear meeting on Wednesday. "This is the bear we have trapped. But there are a lot of black bears in this area. "
The famous black bear hibernated in the cavity of a huge poplar tree just outside the park border. For nearly two weeks, hundreds of thousands of people watched him groom himself, yawn and sometimes break branches to nibble without ever getting off his perch.
"My retired dad is turning 80 and I get a text: 'The bear climbs the tree,'" Waller said. "This was where I looked out my office window and saw people sneaking into the woods, going to where the webcam was to see the bear. It was getting out of hand, so we took the camera off. "
The bear came down from the tree shortly after. Then the keeper of a couple of llamas near the tree came to feed them and found them both dead.