Inspired by the dry January tradition, Cara attended her first-ever non-alcoholic wine tasting, launched by Oddbird Wines, in conjunction with the quirky Zetter Townhouse.
Have you ever opened a bar menu, flipped through for non-alcoholic options, and been silently surprised by how short the section was?
There are so many wines, beers, spirits and cocktails that bars and restaurants serve in the UK. Still, when it comes to non-alcoholic options, the choice is between ginger beer, virgin Mojito, Piña Colada, and Seedlip & tonic if you're lucky. I have never seen wine without alcohol for example until now.
I recently visited The Zetter Townhouse, Farringdon to taste alcohol-free or "alcohol-free" wines according to the logo in Oddbird. For January only, Oddbird has launched a collaboration with these two locations in Marylebone and Farringdon to change the nation's view on alcohol standards.
Oddbird was created in 2003. It produces wines from grapes from small family vineyards. Many of these vineyards are certified organic and support minimal intervention farming and production.
This means the wine is as natural as possible with no added sugars, preservatives or flavorings. "How is it without alcohol? – asked one of the visitors to sommelier Bert Blaize during the tasting.
Oddbird wine appears to be made the same way as traditional wine, by letting the grapes ferment with the natural yeast already on the grapes. After aging, which is 12 months for most Oddbird wines, the wine is gently heated to free it of alcohol using patented technology. The process is called vacuum distillation.
And the taste? I wanted to taste the wines. I was wondering if removing the alcohol still meant it would taste like regular wine with alcohol. I started with low intervention organic Oddbird white wine.
The white is a blend of juicy but light Garganega and Vespaiolo grapes from a northern Italian town of Breganze. The wine was easy drinking, with notes of citrus, pear and floral honey.
It tasted like a normal white with some minerality, but without that really dry acid touch, which I don't appreciate in white wines anyway.
We then paired it with crab macaroni bites and shrimp tempura topped with lemon sauce and fresh dill. Much like white wine, it complemented the flavor and opened up more on the tongue.
After tasting the red, Pinot Noir & Merlot also from the Veneto region. Like the white, it is also organic and micro-vinified in barrels and barrels. It had a smooth feel on the tongue with hints of blackberry, cherry and light pomegranate notes. It was easy to drink.
I probably wouldn't have guessed it was non-alcoholic. It would suit those who like lighter reds with less tannins or a strong oak presence. It goes very well with lamb meatballs with mint and a mini shredded duck orange tart.
During the tasting, I also tried the Oddbird sparkling rosé from France, which had a silky palate of strawberries and cream with hints of citrus. It was not sweet, but rather pleasantly sour with chalkiness. Rosé is a blend of Chardonnay and Pinot Noir grapes.
The Zetter and Oddbird have also created a cocktail list for January, including the Sbagliato Sbagliato, a combination of Oddbird red, sparkling rosé, Italian orange and a grapefruit garnish. It's a great refreshing cocktail with a prominent twist of orange zest.
While breakfast at Tiffany's was sweet and perfect as a dessert cocktail. It is prepared using a croissant infusion and topped with Oddbird Blanc de Blancs. Croissant Infusion has an interesting history, it is made from leftover hotel breakfast croissants at the Zetter Townhouse.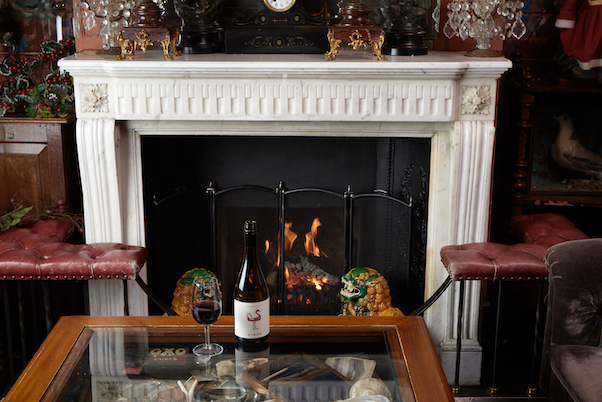 The cocktail really smells like freshly baked croissants, but it's a drink. It was something special and pleasantly unusual to drink such a flavor. Breakfast at Tiffany's and Sparkling Rose came with a chilled Belgian chocolate éclair and a warm apricot and almond mini tart. It was a well-matched mini afternoon tea experience.
To sum up, although I have never tried non-alcoholic wines, I have heard less than enchanting stories about them. I think Oddbird is as good as non-alcoholic wines. It follows traditional methods of winemaking, while using the finest ingredients, supporting small operations and promoting sustainability.
Oddbird wines also contain fewer calories than wines with alcohol. About 1/10and less to be exact. They are all vegan and produce more than six times less CO2 impact compared to the average vineyard.
When it comes to flavor, I think it's important to remember that as with any "without" product, it should be treated as a separate product or dish rather than approaching the "with" product.
Currently, the Oddbird range includes Oddbird Spumante from the Prosecco region, Blanc de Blancs and Sparkling Rosé wines as well as the new low intervention organic red and white wines, which will soon be available for purchase.
RRP & STOCKISTS
Oddbird Spumante RRP £8.99 – available now from Amazon, SPIRIT.ED, Dry Drinker, Alcohol Free Company, Club AF and Dunell's
Oddbird Blanc de Blancs RRP £9.99 – Available at Amazon, SPIRIT.ED, Harvey Nichols, Dry Drinker, Alcohol Free Company, Light Drinks, Club AF and The Wine Reserve
Oddbird Sparkling Rosé Wine RRP £9.99 – Available at Amazon, SPIRIT.ED, Harvey Nichols, Dry Drinker, Alcohol Free Company, Club AF and The Wine Reserve
www.oddbird.com Instagram: @oddbird