Alcohol consumption among men and women is higher in rural India than in urban India, the National Family Health Survey-5 (NFHS-5), 2019-21 found. Overall, 1% of women aged 15 and over drink alcohol, compared to 19% of men in the same age group. This is broken down into 1.6% (rural) and 0.6% (urban) among women, and 19.9% ​​and 16.5% respectively among men.
Of all the states, Arunachal Pradesh has the highest proportion of men (53%) and women (24%) who drink alcohol. Among women, Arunachal Pradesh is followed by Sikkim (16%); among men, it is followed by Telangana (43%). Apart from Arunachal and Telangana, male alcohol consumption is highest (40% and above) in Upper Brahmaputra region of Assam, Jharkhand and Bastar districts of Chhattisgarh and Chhota Nagpur in Jharkhand and Odisha.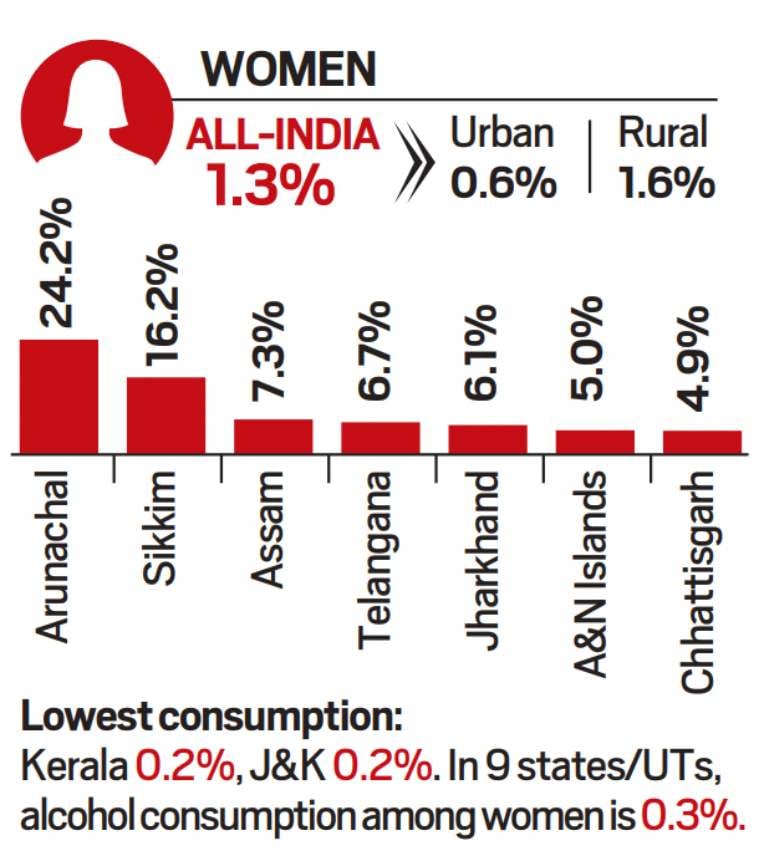 Source: NFHS-5
The level of alcohol consumption among men is 30-40% in parts of Chhattisgarh, Uttarakhand, Manipur, Meghalaya, Tripura and some districts of Odisha. It is below 30% in other parts of India and lowest in Lakshadweep (0.4%).
Alcohol consumption is more common among members of Scheduled Tribes than any other caste/tribe group; this is true for both women (6% consumption among ST) and men (33%). Among religious groups, the proportion of men who drink alcohol is higher among those belonging to "other religions" (47%) than among those belonging to Hindus (20%), Muslims (5%), Christians ( 28%), Sikhs. (23.5%), Buddhist/Neo-Buddhist (24.5%) and Jain (5.9%).
The best of Express Premium